All of us have this one shop near our colleges, metro stations, or bus stops that serve piping hot matar kulchas. Now with the lockdown in effect, one cannot really go out to eat these delicious street foods. What we can do, however, is to try making the same matar kulcha at home. So, let's not waste time and start making this dish.
SERVES: 4
INGREDIENTS:
Kulchas to serve
White peas (safed matar) – 5 cups (soaked for 7-8 hours and drained)
For the 'jal-jeera chutney':
Mint (Pudina) – 1 cup
Black cardamom – 1 pod
Dry chillies – 2
Pepper – 2 tablespoons
Cumin (Jeera) – 2 tablespoons
Fennel (Saunf) – 2 tablespoons
Chaat Masala – 2 tablespoons
Aamchur Powder – 2 tablespoons
Black Salt – as per taste
Oil
Ginger – 2 tablespoons (crushed)
Cumin – 2 tablespoons
Chaat Masala – 2 tablespoons
Turmeric – 2 tablespoons
Chilli Powder – 2 tablespoons
Garam Masala – 2 tablespoons
Hing – a pinch
Lemon – 1(large sized)
Tomato – 1 (large sized)
Onion – 1 (large sized)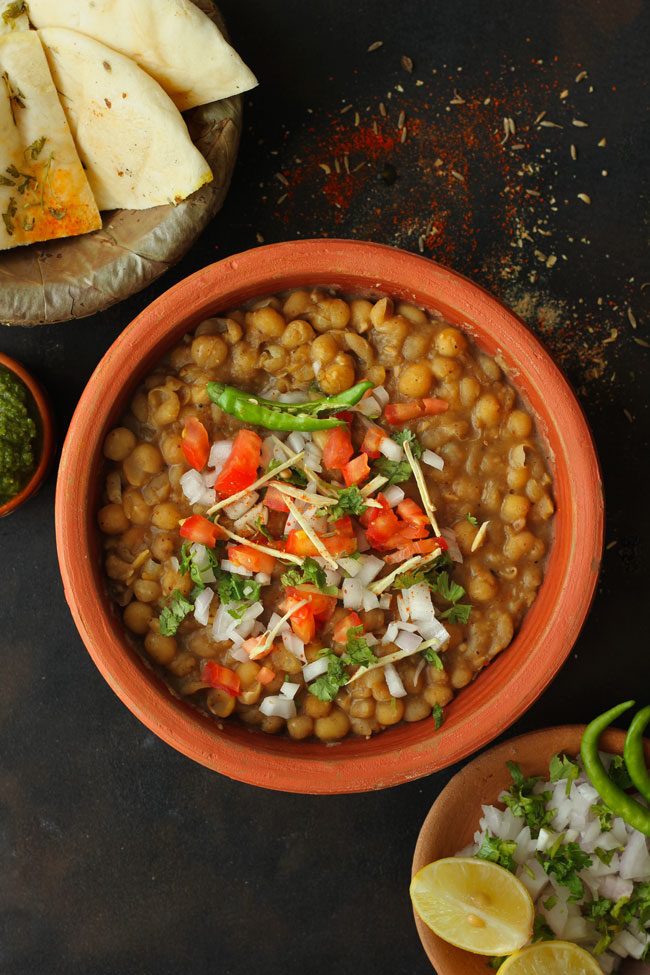 PROCEDURE:
Cook the white peas in a pressure cooker along with some water, salt and turmeric powder for 4-5 whistles. Open the lid only when the excess air is completely released. Now, transfer it in a bowl.
For the jal jeera chutney, blend the above mentioned ingredients to form a smooth texture. You may use water if need be.
Now, heat a non- stick pan and add 6 tablespoons of oil in it. Add ginger, turmeric When cumin seeds, chilli powder, garam masala, chaat masala and a pinch of hing in it. Add black salt as per taste and mix it all properly.
Now add the cooked white pea in it and mix it well.
Add the 'jal-jeera chutney'.
Mash it well. Cook for 2-3 minutes until it thickens. Finally, sprinkle some black salt and  chaat masala.
Serve the matar in a bowl. Garnish it with chopped tomatoes, onion, green chillies, ginger strips and a lemon wedge on top.
Serve the matar with kulcha and enjoy.
Image Credits :
https://www.vegrecipesofindia.com/