I made white sauce pasta for my mother on her birthday. It was a dish that I recently made for my mother. I wanted to make her feel special and surprise her. This dish came out better than my mom had expected. Here is the detailed recipe for this dish so that you can also surprise your loved ones.
SERVES: 3
INGREDIENTS:
Water – 9 cups
Oil – 4-5 teaspoons
Pasta – 3 cups
Capsicum – 1 (large sized)
Onion – 1 (large sized)
Carrot – 1 (large sized)
Garlic – 6 cloves
Refined wheat flour (Maida) – 3 tablespoons
Mozzarella cheese
Butter – 3 tablespoons
Milk – 4 cups
Chilli flakes – 1 teaspoon
Oregano/ Pizza Seasoning – 1 teaspoon
Crushed pepper – 1 1/2 teaspoon
Salt – as per taste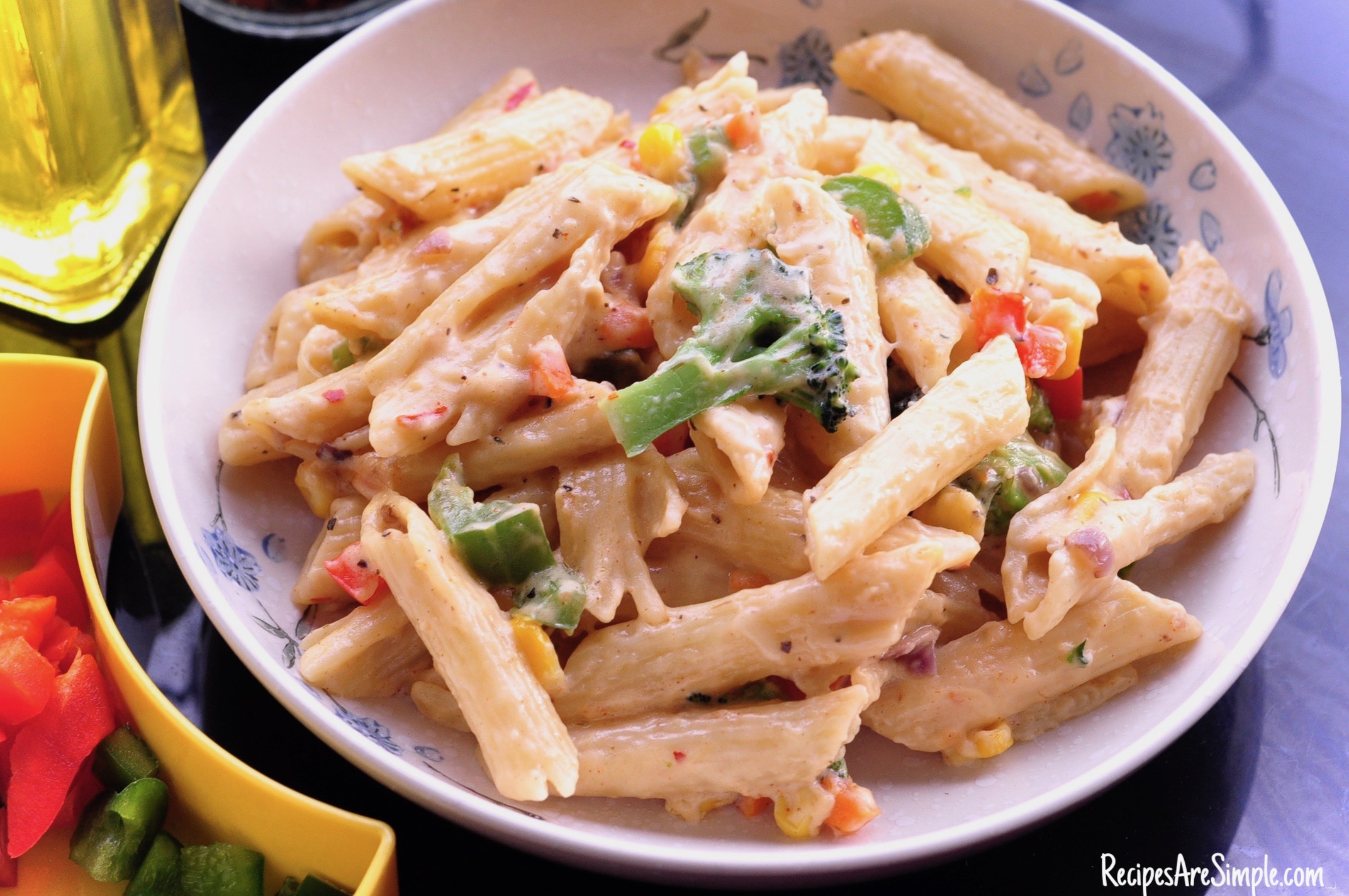 PROCEDURE:
Put the pasta in boiling water with a pinch of salt and oil. Cover it and let it boil for a few minutes until the pasta softens. Drain the excess water out of the pasta. Wash it with cold water. Ensure that it is not overcooked.
Pour oil in a wok and add the finely chopped garlic in it. Saute it well without burning the garlic. Cook it on a medium flame.
Chop all vegetables and add them to the wok. Saute it well for a minute or so. add salt and pepper. Be careful to not overcook it. Turn down the flame to low so that it neither overcooks nor cools down.
Heat butter in a pan. Add the flour and saute it well on a medium flame. Make sure that it does not turn brown. Now pour in 3 cups of milk in it and mix it continuously. It should combine well and consequently thicken.
Add another cup of milk in it and remix it. Keep stirring it continuously to avoid lumps and get a smooth and silky texture.
Now, add chilli flakes, oregano/ pizza seasoning, salt and pepper.
Put the veggies and then the pasta in the white sauce and some mozzarella cheese and mix everything together.
Then add 1 cup of boiled water in it and re-mix it. Taste a little amount of the pasta. You may have to add some salt, sauce, or cheese as per your taste.
Add some cheese on top of the pasta and sprinkle some chilli flakes and oregano/ pizza seasoning.
Your pasta is ready to eat.
Enjoy!